Aplicación CRUD en Laravel
Creación de una aplicación ToDo en Laravel
Servidor VPS en DigitalOcean.com: LEMP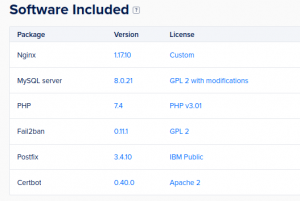 Getting started after deploying LEMP
In addition to the package installation, the 1-Click also:
Enables the UFW firewall to allow only SSH (port 22, rate limited), HTTP (port 80), and HTTPS (port 443) access.
Sets the MySQL root password and runs mysql_secure_installation.
Sets up the debian-sys-maint user in MySQL so the system's init scripts for MySQL will work without requiring the MySQL root user password.
After you create a LEMP 1-Click Droplet:
You can view the LEMP instance immediately by visiting the Droplet's IP address in your browser.

You can log into the Droplet as root using either the password you set when you created the Droplet or with an SSH key, if you added one during creation.
The MySQL root password is in /root/.digitalocean_password.
The web root is /var/www/html.
You can get information about the PHP installation by logging into the Droplet and running php -i.
Configuración del servidor
Conexión al droplet por ssh
ssh root@alumno.xyz

adduser usuario
usermod -aG sudo usuario
apt install mc
Actualizar PHP a la versión 8:
apt install software-properties-common
add-apt-repository ppa:ondrej/php
apt update
apt install php8.0-fpm
php -v
systemctl status php8.0-fpm
apt install php8.0-mysql php8.0-mbstring php8.0-xml php8.0-bcmath

Cómo instalar Node.js en Ubuntu 20.04
# Using Ubuntu
curl -fsSL https://deb.nodesource.com/setup_16.x | sudo -E bash -
 
sudo apt-get install -y nodejs

node -v
 
npm -v
EL servidor debe tener instalada la versión mínima de PHP y estas extensiones:
PHP >= 7.3
BCMath PHP Extension
Ctype PHP Extension
Fileinfo PHP Extension
JSON PHP Extension
Mbstring PHP Extension
OpenSSL PHP Extension
PDO PHP Extension
Tokenizer PHP Extension
XML PHP Extension
How to install all required PHP extensions for Laravel?
sudo apt install openssl php-common php-curl php-json php-mbstring php-mysql php-xml php-zip
Conexión al droplet con un usuario diferente a root:
ssh usuario@alumno.xyz
Instalación de Composer
Composer 2: How to Install in Ubuntu 20.04 LTS
curl -sS https://getcomposer.org/installer -o composer-setup.php
sudo php composer-setup.php --install-dir=/usr/local/bin --filename=composer
composer -V
Instalación de Laravel
Do not run Composer as root/super user! See https://getcomposer.org/root for details
composer create-project laravel/laravel todo
 
cd todo

Error en el droplet con 1 Gb de RAM (son necesarios 2 Gb de RAM, como mínimo):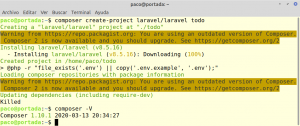 Redimensionar el droplet con 2 Gb de memoria RAM (cuando se termine la instalación se puede volver a redimensionar a 1 Gb):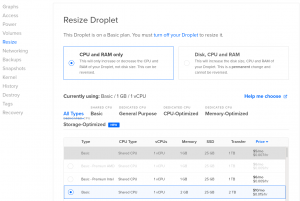 Crear la base de datos todoDB, el usuario todoUser y la password malaga20*
mysql -u root -p
 
CREATE DATABASE todoDB;
CREATE USER 'todoUser'@'localhost' IDENTIFIED BY 'malaga20*';
GRANT ALL PRIVILEGES ON todoDB.* TO 'todoUser'@'localhost';
FLUSH PRIVILEGES;
exit
Modificar el fichero .env:
nano .env
Información de conexión a la base de datos:
DB_CONNECTION=mysql

DB_HOST=127.0.0.1

DB_PORT=3306

DB_DATABASE=todoDB

DB_USERNAME=todoUser

DB_PASSWORD=malaga20*
Montar en el equipo local el sistema de ficheros remoto
Nota: Estos comandos se ejecutan en el equipo local, no en el droplet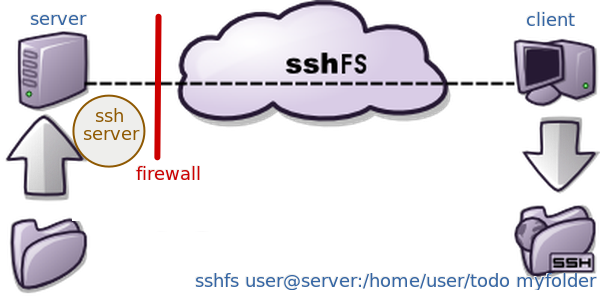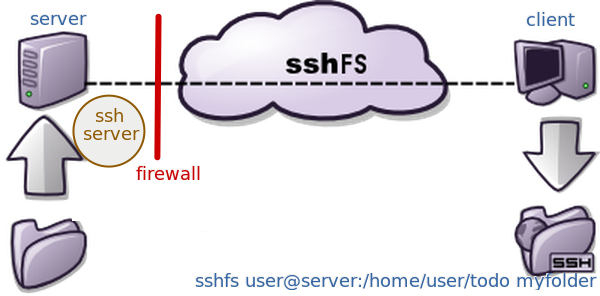 mkdir servidor
 
sshfs usuario@alumno.xyz:/home/usuario/todo/ servidor -p 22
Laravel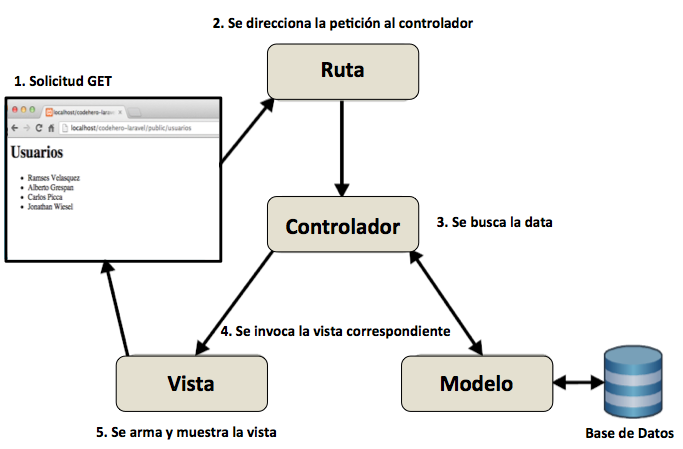 HTTP:
Using HTTP Methods for RESTful Services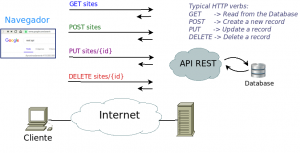 Rutas:


php artisan route:list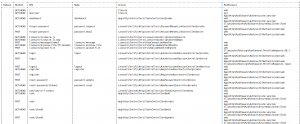 Blade:
Laravel 8 Layouts And Views: Complete Guide
Poner permiso de escritura para www-data en carpeta storage o cambiar el propietario/grupo de la carpeta:
sudo chown -R usuario:www-data storage
How to set up file permissions for Laravel?
Modificación de la página principal
fichero public/css/styles.css (obtenido de welcome.blade.php)
html{line-height:1.15;-webkit-text-size-adjust:100%}body{margin:0}a{background-color:transparent}[hidden]{display:none}html{font-family:system-ui,-apple-system,BlinkMacSystemFont,Segoe UI,Roboto,Helvetica Neue,Arial,Noto Sans,sans-serif,Apple Color Emoji,Segoe UI Emoji,Segoe UI Symbol,Noto Color Emoji;line-height:1.5}*,:after,:before{box-sizing:border-box;border:0 solid #e2e8f0}a{color:inherit;text-decoration:inherit}svg,video{display:block;vertical-align:middle}video{max-width:100%;height:auto}.bg-white{--bg-opacity:1;background-color:#fff;background-color:rgba(255,255,255,var(--bg-opacity))}.bg-gray-100{--bg-opacity:1;background-color:#f7fafc;background-color:rgba(247,250,252,var(--bg-opacity))}.border-gray-200{--border-opacity:1;border-color:#edf2f7;border-color:rgba(237,242,247,var(--border-opacity))}.border-t{border-top-width:1px}.flex{display:flex}.grid{display:grid}.hidden{display:none}.items-center{align-items:center}.justify-center{justify-content:center}.font-semibold{font-weight:600}.h-5{height:1.25rem}.h-8{height:2rem}.h-16{height:4rem}.text-sm{font-size:.875rem}.text-lg{font-size:1.125rem}.leading-7{line-height:1.75rem}.mx-auto{margin-left:auto;margin-right:auto}.ml-1{margin-left:.25rem}.mt-2{margin-top:.5rem}.mr-2{margin-right:.5rem}.ml-2{margin-left:.5rem}.mt-4{margin-top:1rem}.ml-4{margin-left:1rem}.mt-8{margin-top:2rem}.ml-12{margin-left:3rem}.-mt-px{margin-top:-1px}.max-w-6xl{max-width:72rem}.min-h-screen{min-height:100vh}.overflow-hidden{overflow:hidden}.p-6{padding:1.5rem}.py-4{padding-top:1rem;padding-bottom:1rem}.px-6{padding-left:1.5rem;padding-right:1.5rem}.pt-8{padding-top:2rem}.fixed{position:fixed}.relative{position:relative}.top-0{top:0}.right-0{right:0}.shadow{box-shadow:0 1px 3px 0 rgba(0,0,0,.1),0 1px 2px 0 rgba(0,0,0,.06)}.text-center{text-align:center}.text-gray-200{--text-opacity:1;color:#edf2f7;color:rgba(237,242,247,var(--text-opacity))}.text-gray-300{--text-opacity:1;color:#e2e8f0;color:rgba(226,232,240,var(--text-opacity))}.text-gray-400{--text-opacity:1;color:#cbd5e0;color:rgba(203,213,224,var(--text-opacity))}.text-gray-500{--text-opacity:1;color:#a0aec0;color:rgba(160,174,192,var(--text-opacity))}.text-gray-600{--text-opacity:1;color:#718096;color:rgba(113,128,150,var(--text-opacity))}.text-gray-700{--text-opacity:1;color:#4a5568;color:rgba(74,85,104,var(--text-opacity))}.text-gray-900{--text-opacity:1;color:#1a202c;color:rgba(26,32,44,var(--text-opacity))}.underline{text-decoration:underline}.antialiased{-webkit-font-smoothing:antialiased;-moz-osx-font-smoothing:grayscale}.w-5{width:1.25rem}.w-8{width:2rem}.w-auto{width:auto}.grid-cols-1{grid-template-columns:repeat(1,minmax(0,1fr))}@media (min-width:640px){.sm\:rounded-lg{border-radius:.5rem}.sm\:block{display:block}.sm\:items-center{align-items:center}.sm\:justify-start{justify-content:flex-start}.sm\:justify-between{justify-content:space-between}.sm\:h-20{height:5rem}.sm\:ml-0{margin-left:0}.sm\:px-6{padding-left:1.5rem;padding-right:1.5rem}.sm\:pt-0{padding-top:0}.sm\:text-left{text-align:left}.sm\:text-right{text-align:right}}@media (min-width:768px){.md\:border-t-0{border-top-width:0}.md\:border-l{border-left-width:1px}.md\:grid-cols-2{grid-template-columns:repeat(2,minmax(0,1fr))}}@media (min-width:1024px){.lg\:px-8{padding-left:2rem;padding-right:2rem}}@media (prefers-color-scheme:dark){.dark\:bg-gray-800{--bg-opacity:1;background-color:#2d3748;background-color:rgba(45,55,72,var(--bg-opacity))}.dark\:bg-gray-900{--bg-opacity:1;background-color:#1a202c;background-color:rgba(26,32,44,var(--bg-opacity))}.dark\:border-gray-700{--border-opacity:1;border-color:#4a5568;border-color:rgba(74,85,104,var(--border-opacity))}.dark\:text-white{--text-opacity:1;color:#fff;color:rgba(255,255,255,var(--text-opacity))}.dark\:text-gray-400{--text-opacity:1;color:#cbd5e0;color:rgba(203,213,224,var(--text-opacity))}}

Añadir Bootstrap
<link rel="stylesheet" href="https://cdn.jsdelivr.net/npm/bootstrap@4.6.0/dist/css/bootstrap.min.css" integrity="sha384-B0vP5xmATw1+K9KRQjQERJvTumQW0nPEzvF6L/Z6nronJ3oUOFUFpCjEUQouq2+l" crossorigin="anonymous">
fichero resources/views/welcome.blade.php
<!DOCTYPE html>
<html lang="{{ str_replace('_', '-', app()->getLocale()) }}">
    <head>
        <meta charset="utf-8">
        <meta name="viewport" content="width=device-width, initial-scale=1">

        <title>Laravel</title>

        <!-- Fonts -->
        <link href="https://fonts.googleapis.com/css2?family=Nunito:wght@400;600;700&display=swap" rel="stylesheet">
        
        <!-- Bootstrap -->
        <link rel="stylesheet" href="https://cdn.jsdelivr.net/npm/bootstrap@4.6.0/dist/css/bootstrap.min.css" integrity="sha384-B0vP5xmATw1+K9KRQjQERJvTumQW0nPEzvF6L/Z6nronJ3oUOFUFpCjEUQouq2+l" crossorigin="anonymous">

        <!-- Styles -->
        <!-- normalize.css v8.0.1 | MIT License | github.com/necolas/normalize.css  -->
        <link rel="stylesheet" href="css/styles.css">
        <!-- <link rel="stylesheet" href="https://raw.githubusercontent.com/necolas/normalize.css/master/normalize.css">  -->
        
        <style>
            body {
                font-family: 'Nunito', sans-serif;
            }
        </style>
    </head>
    <body class="antialiased">
        <div class="relative flex items-top justify-center min-h-screen bg-gray-100 dark:bg-gray-900 sm:items-center py-4 sm:pt-0">
            @if (Route::has('login'))
                <div class="hidden fixed top-0 right-0 px-6 py-4 sm:block">
                    @auth
                        <a href="{{ url('/dashboard') }}" class="text-sm text-gray-700 underline">Dashboard</a>
                    @else
                        <a href="{{ route('login') }}" class="text-sm text-gray-700 underline">Log in</a>

                        @if (Route::has('register'))
                            <a href="{{ route('register') }}" class="ml-4 text-sm text-gray-700 underline">Register</a>
                        @endif
                    @endauth
                </div>
            @endif
                      

            <div class="max-w-4xl mx-auto sm:px-6 lg:px-4">
                
                <div class="flex justify-center text-primary">
                    <h1>Todo Tasks</h1>					
                </div>
                <div class="flex justify-center text-success">
                    <h3>Manage your tasks online</h3>
                </div>
                <div class="flex justify-center text-secondary">
                    <h4>info@alumno.xyz</h4>
                </div>


                <div class="flex justify-center">                   
                    <div class="ml-4 text-center text-sm text-gray-500">
                        Laravel v{{ Illuminate\Foundation\Application::VERSION }} (PHP v{{ PHP_VERSION }})
                    </div>
                </div>
            </div>
        </div>
    </body>
</html>
Limpiar la caché de Laravel:
sudo php artisan cache:clear
Información sobre Blade:
Example: Blade Template Layout
Información sobre Bootstrap:
Learn Bootstrap 4 in 30 minutes
Ejemplo en GitHub: Bootstrap4 website
CSRF Protection in Laravel